Hiking on
Dartmoor
and by the
South Devon Coast Path
October 16th - 23rd, 1999

Launched October 29th, 1999
Ronald Langereis - 1999 - Amsterdam
---
Introduction

This year 1999 our cultural-historical wanderings will take us to County Devon, in the South-West of Albion. We'll be walking right across the open countryside by way of the grid of 'public footpaths', as they are called in England. On many private properties these footpaths have the right of way and taken together, they often form socalled 'long distance footpaths', as is the case with 'the Two Moors Way'.
For our ramblings we're having a full hand of days at our disposal, as well as an extra day for a daytrip. Of course we'll walk across Dartmoor National Park. The countryside exists of a beautiful, be it sometimes inhospitable peat-moor plane, surrounded by lovely river vales, dappled with sweet little villages, the ones we love to see on picture postcards. We are going to walk a number of routes of the Two Moors Way, the long distance path across Dartmoor, and of the South-West Coast Path as well. The group will be accompanied by two of us.
A number of excursions are part of the program. We will pay a visit to Totnes Castle, a typical example of the medieval 'motte and bailey' kind of stronghold. Besides, we intend to make a trip to Buckfast Abbey, raised afresh from its foundations in the first decades of the XXth century by the Benedictines who are now living in it. Furthermore, there will be Compton Castle to admire, a fortified country house of the XIVth century, fully refurbished in the XIXth by a remote descendant of its former lord. On the extra day we will visit the town of Exeter.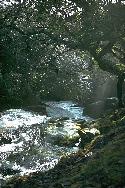 As in the years before, the trip is 'all inclusive'. Indeed, it means: all transport, accommodation and excursions. In our case it means on top op this: your groceries for breakfast and lunches delivered at your doorstep, or rather even on your kitchen table! Coffee, tea, all for the taking, not to speak of the odd mini bar at the roadside. This shouldn't be misinterpreted: We mean a small candy bar, of course, not what you got into your mind!
In the evenings you may take turns in displaying your cooking skills, but for the evenings we're dining out. We thought hard on how to make your stay more agreeable, but honesty admits, it failed our imagination.
By experience we're quite sure most participants only need some pocket-money for personal expenses, like for a pint or so of the local bitter in the pub.
Accommodation
During the week of our stay we're lodged at 'Higher Poulston Farm'. This ancient farm is situated on a hilltop about 6 miles south of Totnes. The next pub-able village is Harbertonford, 1½ m downhill.
The name 'Poulston' goes back to the XIth century at the least. There's an entry in the 'Domesday Book' for this area in which is stated that some acres of the land are leased by a man named Poulston in 1067 A.D.
Since these early times and to our luck the old farm has been radically refurbished. The former barns, styes and stables have been transformed into comfortable holiday cottages. The compound contains a large green, golf links, a tennis court, an indoor swimming pool, as well as a recreation room with provisions for table tennis, darts and pool.
If all these niceties raised your interest, and made you eager to have a look for yourself, the address is: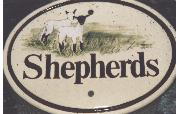 Higher Poulston Farm, Halwell, TOTNES, Devon TQ9 7LE, England
Telephone: 00 44 1803 732255
Kindest regards,
Wim Blok
Henk Schout
Ruud Seriese
Welcome Introduction Program Participants Hiking Area Comments Links
Day One Day Two Day Three Day Four Day Five Day Six Day Seven Homeward bound
Inquiries: Henk Schout
| | | |
| --- | --- | --- |
| Search this site | | for any keywords |
---